Mayo'$ Update$

---
Here is a life insurance option: First In
---
Here are the latest IAFF allocation recommendations June 2015
---
Here are the latest IAFF allocation recommendations June 25, 2014
---
Dear Brothers & Sisters, Oct. 9, 2013
On October 7 @ 1600 ING will be making changes to the Mutual Funds available to all members. The following funds will be terminated:
Davis NY Venture
Janus Forty I
Pax World Balanced Fund Inst
Pioneer Mid Cap Value I
Munder Mid Cap Growth
Aberdeen Select International Equity Fund II
American Funds American High Income R5
American Funds Capital World G/I R5
Nuveen Real Estate Securities I
The new investment options are:
Vanguard Mid Cap Index Inst
Dodge & Cox International Stock
Vanguard Total International Stock Signal
American Funds Capital World Growth G/I R6
Nuveen Real Estate Securities R6
Principal Diversified Real Asset Inst
Pimco Unconstrained Bond Inst.
I have attached new allocations for our members. If each individual member does not make changes to their accounts ING will make the changes and map terminated funds to the new funds. Members will have the ability to make these changes on October 7-13. If you do not make these changes automatic re-allocation will occur on October 14 after the close of the market.
How you choose to invest your monies is a very personal decision. It is also your responsibility to make the decision on what level of risk you are comfortable with. These allocations are meant to be a guide to help you make investment choices. Unfortunately there is no crystal ball to see what he markets will do. Markets can loose and gain on a day to day basis. By providing these choices we hope to give you guidelines to help make those decisions. You can also contact me for a more personal allocation if you feel none of the above suit your investment goals.
Matthew A Mayo
Office 615 790-9659
Toll Free 877-857-3449
Cellular 615 516-6668
---
Dear Brothers and Sisters,
As you Financial Advisor I would like to recommend some changes. With all the turmoil in the Bond Market The Pimco Real Return fund (544) and the American Funds American High-income Trust (2728) are showing losses for the last three months. A negative 3.61% or Pimco and negative 1.37% for American. My recommendation is to move all your bond allocations into ING Fixed Account(457-401). The ING fund is show a positive .74 or the last three months. It is my understanding that ING Fixed will return 3% + by the end of the year. If you have any question or need further recommendations please give me a call.
Matthew A Mayo

Office 615 790-9659
Toll Free 877-857-3449
Cellular 615 516-6668
---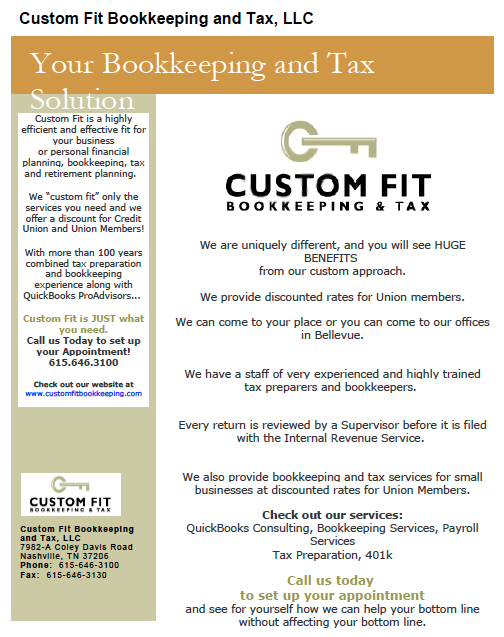 Click here to review Discount Price List for Union Members
---
Dear Brothers and Sisters,
Our Financial Advisor, Matt Mayo, has negotiated with his internal Lawyer to provide a will and other needed legal documents for I.A.F.F 140 members and their families. The attached documents have a price and services offered list.
A will is something that we all need to protect our families. Matt has worked hard to find a below average cost for our members. to take advantage of this simply print and complete the documents and contact Lawyer Adam Hill. Adam is a Vanderbilt Graduate that specializes his practice in the field if wills and estates.
Matthew A Mayo

Office 615 345-0311
Toll Free 877-857-3449
Cellular 615 516-6668
---
Please click on the monthly issues below and the newsletter will open.
PRS's 3rd Quarter Investment Picks
Page Last Updated: Mar 31, 2016 (11:41:20)